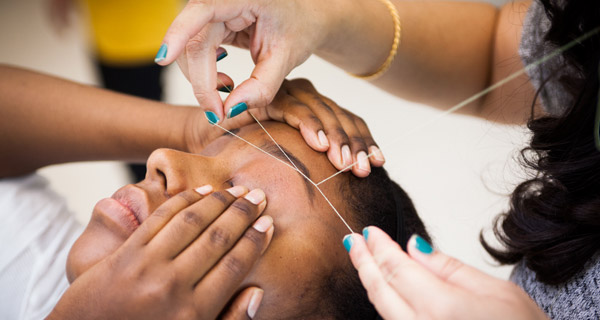 Threading is considered the best alternative to waxing and tweezing, and it is very gentle on your skin. Yet, those with sensitive skin may experience a little redness after a treatment that should not last long. If you experience a discomfort, it is advisable to apply a cold compress over the treated area followed by toner or cooling gel that contains aloe Vera or witch hazel.
Those with extra sensitive or rosacea-prone skin should follow the tips below to avoid soreness, skin irritation or breakouts (which are very rare!) after a full face threading :
Activities to avoid:
The hairs from the face are removed from the follicle, leaving the pores on the skin open for at least 2 to 3 hours.
Avoid touching the treated area for 2-4 hours.
No make-up or perfumed products should be applied for 2-4 hours.
Avoid steam treatment or heat source like sun bathing / tanning beds, hot baths or sauna for at least 24 hours.
Avoid swimming or spray tanning 24-48 hours post threading.
General Care:
Gently wash the treated area with anti-bacterial face wash.
Choose a toner with witch hazel, whose catechol tannins help reduce the size of pores and push out dirt. Or choose a toner with salicylic acid, which not only breaks down the oil in the clogged hair follicle, but helps kill the bacteria.
You may use other helpful ingredients such as Neosporin cream, tea tree oil or anti-inflammatories such as chamomile, aloe vera and allantoin.
What to do if you experience a break out:
Apply a hydrocortisone cream to help relieve swelling and itching.
Refrain from squeezing the pimples. This can lead to infection or spread the bacteria to other areas of your face.
Visit a board-certified dermatologist if the pimples get bigger or don't go away. You may need a prescription-strength antibiotic or topical cream.